Small, local businesses are a crucial source of economic growth and opportunity, accounting for some 55% of all jobs and 66% of new jobs since the 1970s. New Jersey's nearly 200,000 small businesses employ 50.1% of the state's workforce.28 These enterprises face considerable challenges in a state whose economic development policies rely almost exclusively on subsidies to retain large, multistate and multinational corporations or to bring them in from somewhere else. About one tenth of 1% of the state's large businesses have benefited from more than $7.4 billion in corporate tax breaks awarded from 2010 through 2016.29
Devoting more resources and support to promoting small business prosperity has the potential to revitalize urban cores and main streets and help drive job growth throughout New Jersey.
NURTURING STARTUPS
Small businesses are not just mom-and-pop stores along New Jersey's Main Streets. They also can be the starting points for the next Google or Amazon. It is in New Jersey's long-term interest to help nurture entrepreneurship that starts out small and grows big.
RECOMMENDATION
Develop a comprehensive set of state policies that range from helping universities move applied research to the market and teaching business owners how to manage cash flow and deal with other similar issues, to organizing networks of investors and linking entrepreneurs with mentors.
Gather and analyze data on these policies, so that New Jersey is current on what works best and can adjust priorities accordingly.
Most jobs created in any state come from businesses that start up in the state or are already located there, as opposed to relocations—in New Jersey, approximately 85% of new job gains from 1995 through 2013 came from home-grown businesses.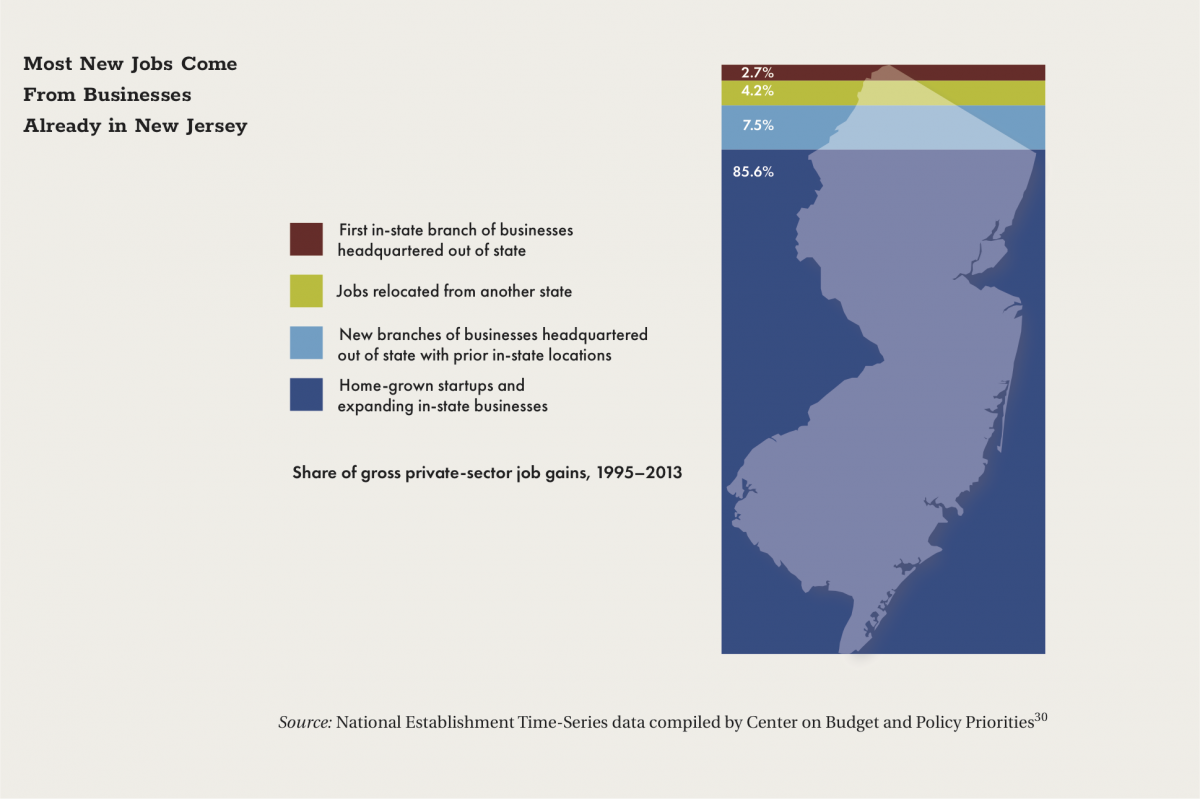 ACCESS TO CAPITAL
Owners of small businesses often have difficulty obtaining loans, lines of credit, business credit cards, and other types of credit from banks and financial institutions. If they are in economically struggling areas, small businesses often lack equal access to fair and affordable small business loans.
In a membership survey by the Main Street Alliance, a national network of small business coalitions, two thirds of New Jersey respondents reported being turned down for a bank loan in the past year. Of those who were turned down, 78% were unable to get the capital they needed, forcing them to hold off on repairs or expansions.
As finance in recent years has grown even more concentrated, speculative, and globally focused, current and potential small business owners often are left only with the choice of dipping into their personal savings, retirement plans, or credit card accounts to support their enterprises. It makes them reluctant to expand operations or open new storefronts—endeavors that would encourage job growth. Meanwhile, large corporations take the lion's share of public capital funding available through state corporate tax subsidies.
One promising way to address this situation is through Responsible Banking Ordinances (RBOs), which create standards for leveraging assets worth millions, if not billions, of dollars in potential deposits and investments. Such measures create healthy competition among banks and motivate them to implement local community reinvestment practices in return for the ability to secure public contracts.
RECOMMENDATION
Encourage cities and counties to adopt Responsible Banking Ordinances requiring financial institutions that take deposits from and do business with their jurisdictions to invest in and serve their communities equitably.
The message to financial institutions: if you want our business, you must operate by standards that benefit the community and perform better than your peers. Essex County passed New Jersey's first RBO in 2015.
CHANGING PRIORITIES
New Jersey must do more to encourage grants, tax subsidies, and loans geared specifically toward small businesses. The state took a promising step in this direction in January 2017 by authorizing the Economic Development Authority to help small business obtain money for the bonds they need to bid on state and federal work.
RECOMMENDATION
Revise the priorities of the New Jersey Economic Development Authority to reduce the amount of money spent on subsidies to large corporations and increase support for small businesses.
Include small business representation on EDA's public board to ensure that the small business perspective is heard.
Many small business owners are intimidated by the paperwork and bureaucracy involved with government-sponsored programs. Any new EDA initiatives should include support for education, outreach, and technical assistance pertaining to such new funding opportunities for small business.
Funding opportunities also could be broken down by industry or service type, with priority for those businesses with fewer than 20 employees that operate, or plan to operate, in urban cores and downtown main streets with high walkability. Grants and subsidies also could be made available to smaller municipalities and associations seeking to revitalize or promote these same areas. Such funding could be used for such purposes as facade improvements, rental relief, or improving parking and transportation options— all endeavors to attract small business ownership and customers.